How does JD Edwards 64-bit impact in my company?
The architecture of the majority actual processors is 64-bits. This means that the data calculation is more efficient, both the hardware and the software architecture.
In this way, you get immediately two principal advantages:
A better performance in the application.
An actualized overview of applications.
 There are third-party applications and programs that have been running in 64-bit for a long time; in this way, JD Edwards has been fully compatible with 64-bit operating systems, databases, Java, and middleware for years. Now, to round out our architecture, JD Edwards will enable 64-bit processing for the Enterprise Server and development client. This empowers you to move completely from 32-bit to 64- bit processing.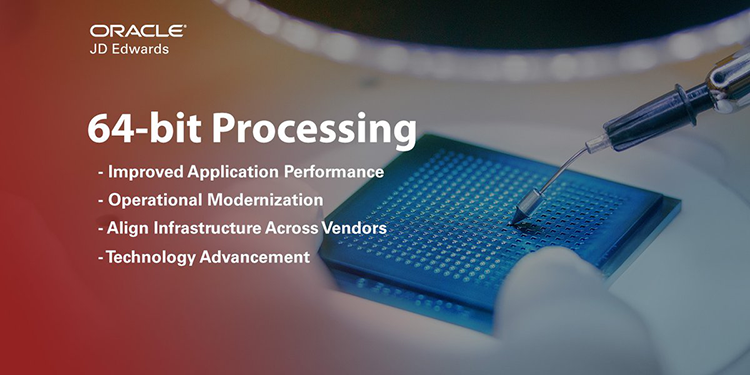 At what point do I have to migrate?
A good point could be, for example, the update to the last version of JD Edwards Tools Release 22 or an update to the last version of JD Edwards 9.2.
WE COMPLY WITH OVI CERTIFICATIONS
In the other hand, the new platform certifications will be only in 64-bit and OVI solutions must be validated with 64 bits  
 For this reason, we already have this certification following the good practices recommended by Oracle to provide a quality service to be able to advise you on everything you need.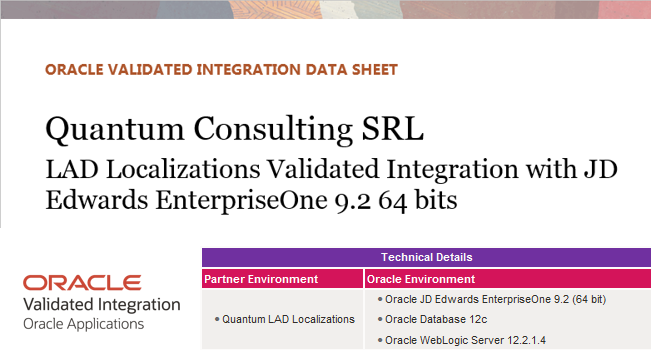 I have JD Edwards in 32 bits, what I need to do?
To take advantage of the performance improvements there are some conditions:
The version of the JD Edwards application must be 9.2 or higher.
With this, the support is assured until at least 2032. A long-term policy allows customers to maximize their investment by having access to new capabilities through 'updates' to 9.2 version without having to migrate.
You must update to the new version of tools if you are not on 9.2.
Will JD Edwards be faster in 64-bit?
Definitely! It´s important that users experience smooth use of the applications.  In addition to future-proofing your environment and taking advantage of performance improvements, there are other benefits of moving to 64-bit enablement.
The test results shows that performance improvements are especially noticeable in screen handling and batch processing.
Its modern architecture based in two layers: technology and applications, greatly reduces the costs of maintenance, upgrade and migration to new versions. This is one of the reasons why JD Edwards is the ERP with the most clients in the latest version.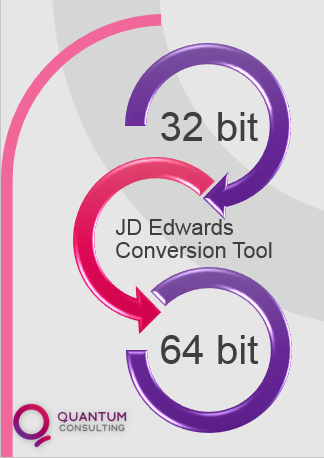 You can count on us to optimize your JD Edwards installation, we offer qualified support, proactive management and assured response times. Contact us for a review of your infrastructure. We have a well-proven process to help you make the change that enables your organization to digitally transformation.
It doesn't matter the state your company is concerning JD Edwards; if you are considering implementing it, optimizing it, or updating it to the latest version; We help you plan the best option based on our extensive knowledge of JD Edwards best practices.