Evolve with new versions of JD Edwards and take
advantage of new functionalities.
JDEdwards Roadmap is the support and forecasting plan for product updates or improvements that Oracle makes available to all its customers.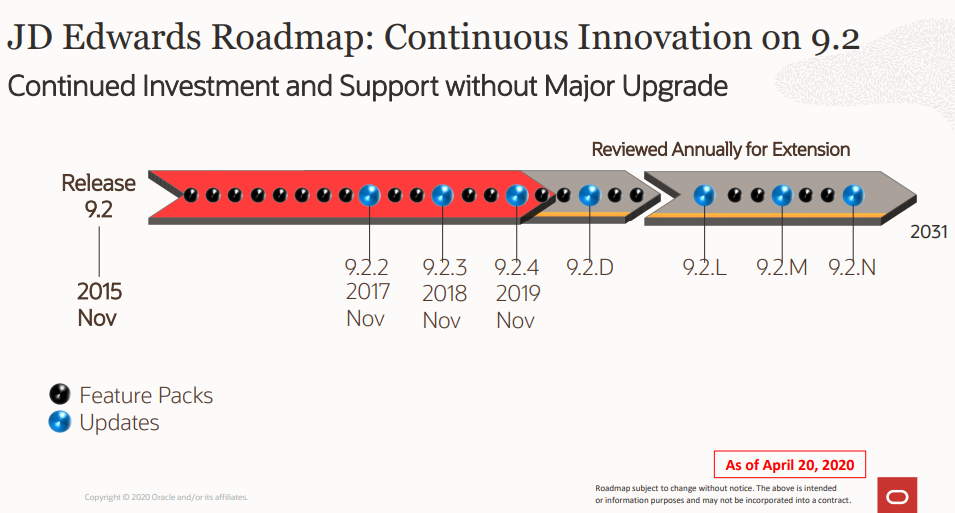 CNC specialization
Certification in the Upgrade Methodology 100 days
We can provide any of the following services according to your needs:
Initial preparation and planning to define a route for updating
Project administration
Personalized training for desired new features and functions
Guidance and assistance in the testing and problem-solving process
Technical tasks, installation, and administration.
Retrofitting of mandatory interfaces and modifications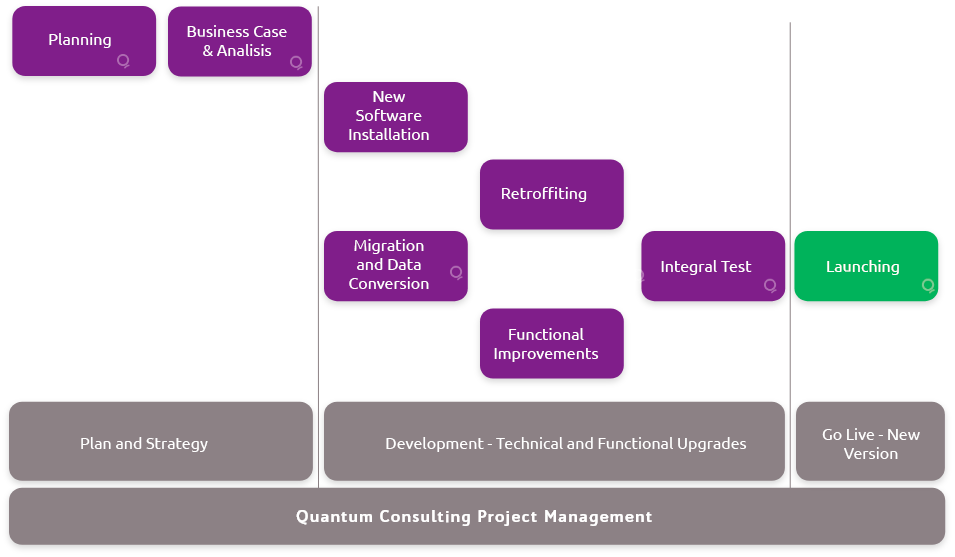 Types of Upgrade Projects
Pros: Fast, small changes.
Cons: Low return. There is no modernization of business processes.
Platform modernization.
Adopt new differentiators like UX One, Personalization, Orchestrator
Cons: Requires additional training.
Functional upgrade.
Adopt new functionalities and / or add new modules
Pros: Introduction of improved solutions.
Cons: New modules and processes increase training.
Upgrade transformation. Re-implement from the basic product for process improvement. Platform
modernization.
Pros: Accompany a necessary business change.
Cons: Radically extends the scope of the project.
From our experience in migration projects from World Software to EnterpriseOne we can summarize
the following tasks:
Replacement of  "customs" by:

New standard functionality
Current locations
OVI Products – Quantum

Reengineering of Tasks, Roles and Security.
Replacement of reports and queries by BIPublisher, One View Reporting, UXOne.
Use of platform control and management tools and object administration.Reingeniería de Tareas, Roles y Seguridad.
Why migrate to EnterpriseOne 9.2?
World and EnterpriseOne: both are JD Edwards
Your company's current JD Edwards World knowledge will translate to EnterpriseOne. Common design elements support similar majors, charts of accounts, bills of materials, address books, business processes, and configurable codes.
A better user experience.
EnterpriseOne's graphical-based navigation UI makes daily tasks intuitive and easy.
With EnterpriseOne 9.2, you also get features like mobile apps, and the Orchestrator, allowing you to
stay connected anywhere, everywhere.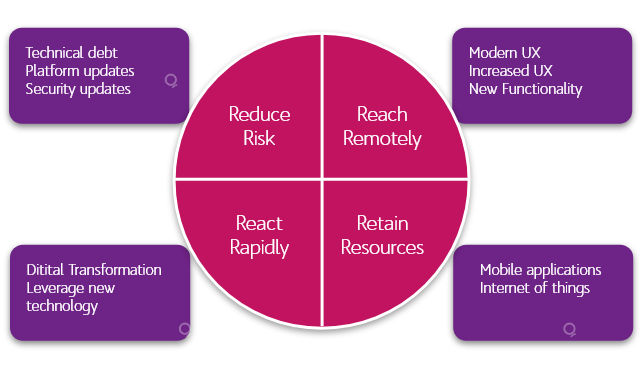 Migration Paths for JD Edwards World to EnterpriseOne
Data Conversion Scripts Options for  JD Edwards World Customers
From JD Edwards World Release
To JD Edwards EnterpriseOne Release 9.2 Data Conversion Scripts
A7.3 cume 9
Direct
A8.1
Step 1: Migrate to Xe
Step 2: Upgrade from Xe to 9.2
A9.1
Step 1: Upgrade to A9.2 Update 1 or A9.3
Step 2: Migrate to E1 9.2
A9.2 Update 1
Direct
A9.3 Update 1
Direct
A9.3
Direct (From A9.3 Update 1)
A9.4
Direct
How can we support you today?