What it implies and how it is implemented
The ability to facilitate a digital transformation in an organization is included in JD Edwards as Cross Applications (applicable to all modules).
An EnterpriseOne 9.2 implementation can leverage these capabilities, thus adding value to the Organization and facilitating its path towards Digital Transformation.
The application of these tools to the reality of the Organization is part of a Quantum Consulting practice that includes an assessment and definition of scopes, implementation, and training.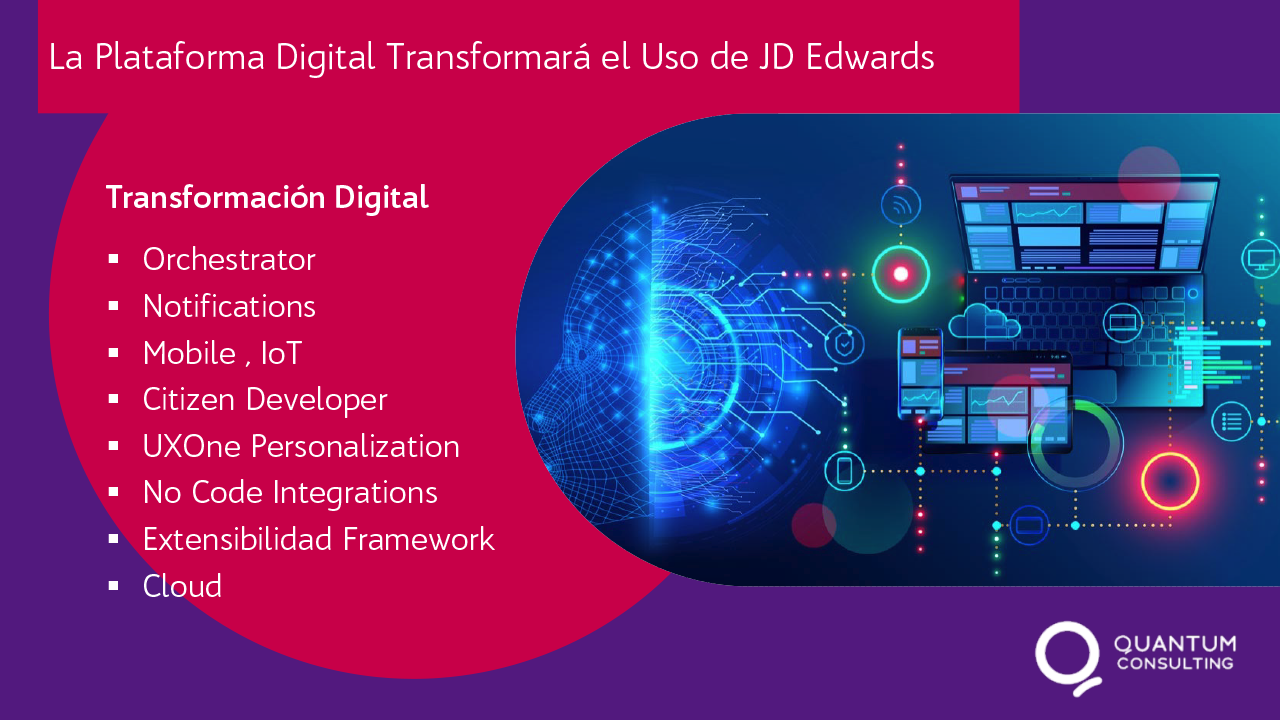 Main Components Cross Applications Go to the demo gallery UX One

gives you options to customize and configure your user experience. The Alert, Analyze, Act design principle displays your most important decision-making data in one location: a role-defined landing page. You can view alerts, analyze critical data in a graphical format, and take action on alerts
Orchestrator es un componente clave de su plataforma digital JD Edwards. Puede transformar el sistema EnterpriseOne de un sistema de registros basado en transacciones a un sistema que proporcione un reflejo dinámico de sus operaciones comerciales en tiempo real.

Aplicaciones típicas de Orchestrator

IoT (Internet of Things. Permite que los dispositivos y máquinas con IoT se conviertan en usuarios de las aplicaciones EnterpriseOne. A medida que envían datos a las orquestaciones, su sistema JD Edwards se mantiene actualizado y preciso sin intervención humana.
Integración. Se integra con sistemas externos y servicios en la nube, lo que permite que su sistema EnterpriseOne envíe y reciba datos para procesos empresariales integrados.
Desarrollos simplificados. El Orchestrator Studio permite a un analista de negocios, alguien que entiende profundamente tanto las operaciones de campo como las aplicaciones JD Edwards EnterpriseOne, crear, probar e implementar orquestaciones. Los analistas pueden incluso capturar los procesos clave simplemente registrando los pasos mientras usan las aplicaciones EnterpriseOne.
BPA (Business Process Automation). Los analistas pueden incluso capturar los procesos clave simplemente registrando los pasos mientras usan las aplicaciones EnterpriseOne.
User Defined Objects. Con la versión 9.2, JD Edwards cambió todo el paradigma de cómo funcionan los objetos en EnterpriseOne e introdujo los objetos definidos por el usuario o UDO. Los UDO son objetos residentes en la web que usted crea en EnterpriseOne. Por "usted" nos referimos a un desarrollador "usuario", como un analista de negocios, o incluso un usuario final.


¿Qué UDO's puede crear?

Personalization. With EnterpriseOne's customization options, you can create your own experience to comply with a user interface, without any custom. Our customization frameworks not only help you cut costs, but also enable you to meet requirements at a rapid pace. Use the developers for business users (citicen developers) of your organization, to reduce the "customs".
As JD Edwards General Manager Lyle Ekdahl says, "Citicen Developers" are business analysts and other non-developers who leverage JD Edwards Configuration, Extensibility, and Customization platforms to configure solutions that enable their business processes and End users who customize it.
Mobile platform. Oracle's Mobile Enterprise applications enable the mobile workforce to accelerate business execution on their device of choice. Users get up and running easily with a modern user interface and purpose-based, role-based applications.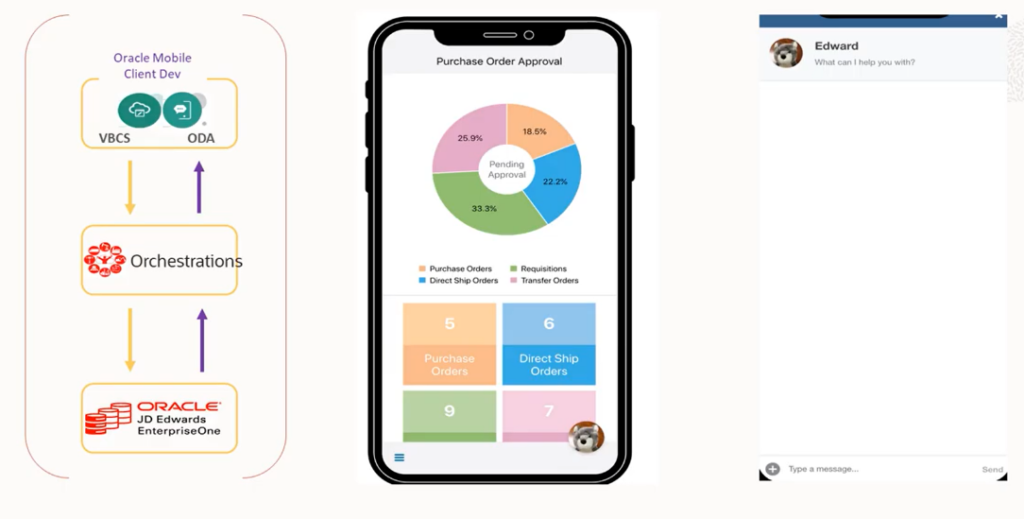 Extensibility. It is the process of extending the capabilities of the host system by adding new features. These resources help you and business partners create new functionality within existing JD Edwards EnterpriseOne applications. Use our codeless tools to meet your daily tasks or simple augmentation requirements without creating barriers to future updates with complex Customs.

Reporting. One View Reporting is a real-time operational reporting solution designed specifically for end-users. An intuitive interface allows users to access and customize transactional data in lists, charts, graphs, and tables. Unique to all JD Edwards modules, it helps you design intuitive, easy-to-use reports to improve business productivity.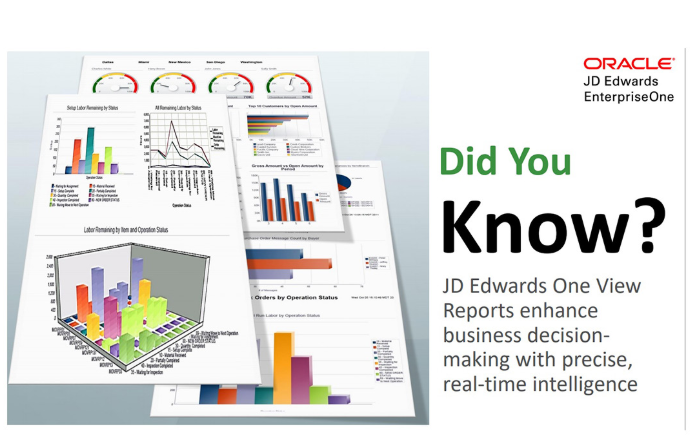 Notifications
. Notifications allow you to stay connected to your business by sending them important information. In-app links in notifications let you stay proactive and responsive to critical business events, whether you're busy at your desk or in the field.
It doesn't matter the state your company is concerning JD Edwards; if you are considering implementing it, optimizing it, or updating it to the latest version;
We help you plan the best option based on our extensive knowledge of JD Edwards best practices.
How can we support you today?